Dream Living Room for ARHAUS
*Before getting too far into this, let me just go ahead and say that I was asked to create a dream living room post for Arhaus. You can visit their living room section
HERE
and their Instagram
HERE
. They aren't compensating me and all of the opinions​ here are my own.* Most of the images are on
THIS
Pinterest Board that I used to get my ideas together
So designing a living room is actually quite fun. Since it's a "dream living room" I've decided I'm not looking at prices or worrying about nitpicking a floor plan.
The three major things that I would love is a comfortable couch, a desk to work at, and a huge window seat with built in bookshelves.
So there should be lots of sunlight coming in to fill the room, and high ceilings. I'm imagining on the wall opposite the window a hanging garden set up like this one. The french cleat idea is genius!
The floor would definitely be a light colored wood. This wine box flooring is one idea, and I also like the shaped tile style of the second image.
And on top of all that pretty woodwork I want a couple of area rugs. One bigger red rug around the seating and coffee table area similar to this.
And a smaller fur hide style like these near the window seat. It doesn't have to be real fur.
Now to start filling in this space!
My desk would go along one of the side walls near the bookshelves and be set up with my computer, printer, and all that good stuff. I actually found two desks at Arhaus that are perfect for what I envision. The
Telegraph desk
is gorgeous with a lot of surface area for me to spread out in, and loads of storage. There is a hidden space in the top to put a power strip so you can hide your wiring, and the middle "drawer" flips down and slides out to hold your keyboard.
The
Portier desk
has all these curves and an elegant stone top. The six leg set up is unique and adds a lot of charm. I love the paneling that goes all the way around the back. So I don't know if I would put this one all the way against the wall, because I'd would want to be able to see that!
And above the desk I think it would be cool to have some pendant lights like these.
Across from here I'm imagining the tv over a console table like the Allegro table at Arhaus. The arches in this piece are lovely and the drawers would come in handy for keeping up with remotes and controllers. I do wish that it came in a lighter color, but I'm just in love with the shape.
Alright on to the seating! The room definitely needs a couch, and at least two big chairs. I am leaning towards darker gray and black colors that will look striking against the light hardwood and vibrant red on the floor. The
Club couch
is definitely a stunner, and would definitely become the favorite seat to watch tv and movies from.
Having picked that one, it led me towards a similar set of chairs to go on either side for additional seating. The
Berwick chairs
look so plush, and I like the studded details along the front. The color and shape doesn't exactly match the couch, but I think they would still work really well together.
There were a couple of ideas on the coffee table. There is a fairly intricate, carved table with a stone top.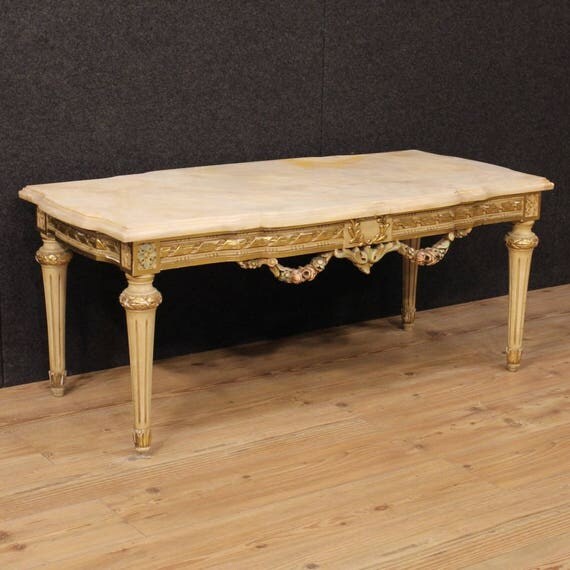 Then there is the studded chest being used in a similar manner.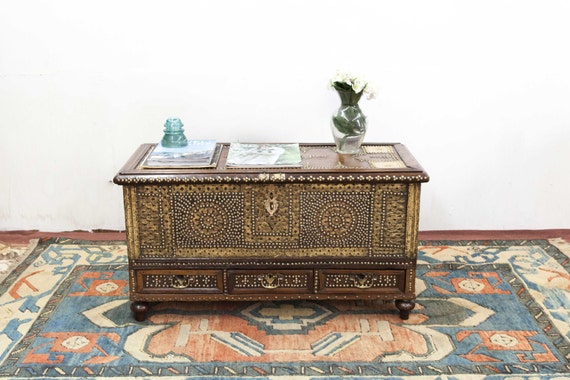 The last detail that I really would love to have is a gate like the one here to help to herd the dogs out of the living room whenever we have company over. The arched doorway would be nice too!
Anyway, this has been a rather enjoyable exercise designing without limits. There are tons of little things that I could go into. Of course I'd like to make some pillows with my fabric, or have a section of wallpaper with some of my own designs from Spoonflower. But this could turn into a monster of a post. So if you'd like to see more of my ideas for this feel free to check out the Pinterest board.